EU-China Collaboration on 5G and IoT Research

Organised by The EU-China 5G-IoT Project
5G Forum USA 2015
The LTE World Series is delighted to launch our first solo 5G Forum USA, taking place 14-15th April 2015 in Palo Alto, which will bring
together senior executives & key decision makers from the full 5G ecosystem to discuss the future of the 5G network.
This dedicated event will provide the perfect platform to examine the need for 5G, address what the network will look like, and how MNO's will transition to 5G,
whilst also examining what opportunities for new business models and services will be enabled once a fully 5G mobile network is available.http://5gforumusa.com/
_____________________________________________________________________________________
_____________________________________________________________________________________
5G World Summit 2015
The LAUNCH 5G World Summit, taking place alongside our leading LTE World Summit event in June, is already proving to be the must-attend global platform
bringing together the world's mobile broadband community to discuss the future of 5G and the transition to 5G from LTE and LTE-Advanced.
This dedicated event will provide the perfect platform to examine the need for 5G, address what the network will look like, and how MNO's will transition to 5G,
This dedicated 5G Summit will provide the perfect opportunity for forward-thinking LTE professionals representing the operator, vendor, device and analyst communities to examine the drivers for 5G, address what the network will look like, and how MNO's will transition to 5G,
whilst also examining what opportunities for new business models and services will be enabled once a fully 5G mobile network is available.http://5gworldsummit.com/
____________________________________________________________________________________________
Call for Papers: submit your papers in Word or PDF to: 5gmobileforum@gmail.com
http://wirelesscongress.com/press/wnew.htm
______________________________________________________________________________________________
IPv6 Forum @ ITU Telecom World 2014


ITU Telecom World 2014 is the leading platform for high-level debate, networking, innovation-showcasing and knowledge-sharing for the global ICT community. Drawing on ITU's unique reach as the lead UN agency for ICT issues, World 2014 brings together public and private sectors, emerging markets and industry investors at the highest level from across the entire ecosystem . Under the theme "Future in Focus", discussions will explore the current massive disruption of the ICT sector and its implications for the future. Join us for the 1 conversation that matters in Doha, Qatar, from 07 – 10 December 2014.ITU TELECOM World Web site: http://telecomworld.itu.int"

The Next Big Internet Step: Moving to IPv6 to Enable Everything at ITU Telecom World 2014

Web site: :
http://www.itu.int/net4/Telecom/webs/TelecomWorld/session/description/C-00000418/"

Venue: Doha, Qatar

Date: December 7-10, 2014
Hosted by: IPv6 Forum & ITU
_________________________________________________________________________________________________________
Global Forum 2014 in Geneva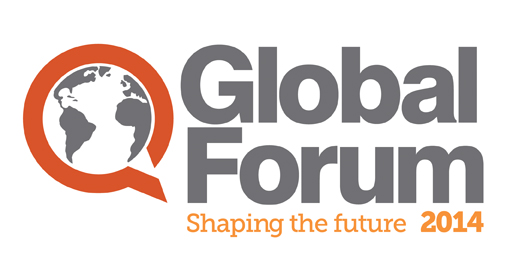 GLOBAL FORUM 2014 : OUR PATH TO A DIGITAL CONNECTED WORLD
GF 2014 web site: :http://globalforum.items-int.com/Venue: Geneva, Switzerland At the CICGDate: November 17-18, 2014Download the GF 2014 press release: GF14PR.pdf
Hosted by: Dr. Sylviane TOPORKOFF, Founder & Partner and Sébastien LEVY, Projects ICT, ITEMS International
______________________________________________________________________________________________
WIRELESS WORLD RESEARCH FORUM
On September 22nd-23rd 2014 in London, UK, the Wireless World Research Forum (WWRF) in conjunction with techUK will host 'The 5G Huddle – Towards a global 5G vision',  2 days of interactive discussion aimed at bringing together senior industry and Government leaders from North America, Europe and Asia.
______________________________________________________________________________________________
16th International Telecom Networks 2014
http://networks2014.av.it.pt/ /Date: September 17-19, 2014

Venue: Funchal, Madeira Island, Portugal

+++ IMPORTANT DATES & PAPER SUBMISSION +++

Paper Submission Due: May 25, 2014

Author Notification: June 23, 2014
General Chair: António Teixeira, Aveiro University
_________________________________________________________________________________________________
2014 IEEE Asia Pacific Conference on Wireless and Mobile Technologies
Bali, 28-30 August 2014
Arief Hamdani Gunawan
Vice Chair of APWiMob 2014
Senior Officer Regulatory Management
TELKOM INDONESIA
Training and Certification
An initiative project in preparing 5G Competence
___________________________________________________________________________
Chair
Latif Ladid, 3GPP PCG Member, 3GPP2 PCG member, President, IPv6 Forum, Chair IoT subC, Senior Researcher, University of Luxembourg
Latif Ladid holds the following positions: President, IPv6 FORUM, Emeritus Trustee, Internet  Society, Board Member IPv6 Ready & Enabled Logos Program,and Board Member World Summit Award. He is a Senior Researcher at the University of Luxembourg on multiple European Commission Next Generation Technologies IST Projects: 6INIT, www.6init.org – First Pioneer IPv6 Research Project; 6WINIT, www.6winit.org; Euro6IX, www.euro6ix.org; Eurov6, www.eurov6.org; NGNi, www.ngni.org; Project initiator SEINIT, www.seinit.org, and Project initiator SecurIST, www.securitytaskforce.org.  He is also Board Member of 3GPP PCG (www.3gpp.org), 3GPP2 PCG (www.3gpp2.org), Chair, IEEE ComSoc 5G MWI subTC, member of UN Strategy Council, and member of the Future Internet Forum EU Member States (representing Luxembourg).
Vice-chairs
Fredrik Garneij, Senior Specialist, IPv6 Program, Ericsson, Sweden

Fredrik Garneij studied Automation Engineering at Chalmers University of Technology in Gothenburg, Sweden. His work with IPv6 has been focused at application level as well as the network level, recognizing the necessity of IPv6 deployment for the near future Internet evolution.
Fredrik has extensive experience in early deployment of upcoming key Internet technologies and is a champion for IPv6 and end2end. In 2001 working at Telia, he deployed the first commercial IPv6 network in Europe. In year 2000 he engineered a SIP based solution making all Telia employees reachable via their email/SIP address.
He participated in several EC projects related to IPv6 and served as expert in project audits. Now at Ericsson as a Senior Specialist, he works with IPv6 as area responsible for Ericsson Mobile Packet Core products. He is involved in 3GPP and IETF IPv6 standardization where he has been contributing to and tracking IPv6 related Specs in 3GPP WGs such as IPv6 Migration TR 23.975, introduction of DHCPv6 Prefix Delegation into TS 23.060 TS 23.401 and supporting IETF specs, addition of PCC architecture TFT filters IPv6 extensions and also initiated the deprecation of IPv4 for 3GPP m2m usage mandating IPv6 to become baseline address architecture for m2m. His responsibilities also include customer deployment discussions and rollout as an expert on IPv6 deployment in mobile networks.
His passion for hands-on and IPv6 dissemination has lead to several "firsts" like IPv6@Mona Lisa and IPv6 on Android over 3G. Fredrik has been a well-seen speaker on the area at both international and national conferences.
Pascal Thubert, Tech lead, IPv6 enginerring at Cisco System
Pascal Thubert is (both) an R&D engineer, who designed and implemented networking standards and products for more than 25 years with IBM and then Cisco, oscillating between the R and the D over the years. He joined Cisco's Technology Center in 2000, moved to IPv6 Core engineering 5 years ago, and is now refocusing on advanced technology within Cisco's Enterprise Networking Labs. Pascal's interests lay in the interactions between IPv6, routing, mobility and radios, with currently a focus on the Internet of Things; he co-authored the ISA100.11a industrial WSN specification as well as the NEMO, 6LoWPAN and RPL related RFCs at the IETF and some of their implementations in Cisco Products. Pascal now participates at the IETF as co-chair to the new 6TiSCH effort to specify Deterministic IPv6 over IEEE802.15.4e TSCH.
Roberto Minerva, Director, Telecom Italia, Chair, IEEE IoT Initiative
Secretary
Maria Rita Palattella, Dr., Research Associate, University of Luxembourg
Maria Rita Palattella is a Research Associate at the Interdisciplinary centre for Security, Reliability and Trust (SnT), part of the Universtity of Luxembourg. She obtained her PhD in Electronics Engineering from "Scuola Interpolitecnica di Dottorato" (SIPD) and "Politecnico di Bari," Italy, in February 2011. She is/has been involved in several EU FP7 projects, including OUTSMART, IoT6, which focused on: the development of secure and smart Internet of Things (IoT) applications, the exploitation of the potential of IPv6 and related standards (IEEE802.15.4e, IETF RPL, etc.).
She is currently a member of the  IETF 6TiSCH WG, which aims at bonding the TimeSlotted Channel Hopping (TSCH) MAC technology and IPv6 networking approaches to yield a robust industrial IoT protocol stack.
European Commission: Towards 5G
China's 5G Initiative
This is a sample news post.  News posts will appear under the News page.
---